Download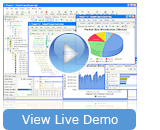 As a professional network analyzer (also known as pecket sniffer or protocol analyzer), Colasoft Capsa performs real-time packet capturing, 24/7 network monitoring, advanced protocol analyzing, in-depth packet decoding, and automatic expert diagnosing. It allows you to get a clear view of the complex network, conduct packet level analysis, and troubleshoot network problems.
Whether you're a network administrator who needs to identify, diagnose, and solve network problems, a company manager who wants to monitor user activities on the network and ensure that the corporation's communications assets are safe, or a consultant who has to quickly solve network problems for clients, Capsa is the tool you need.
Key Features

Traffic Statistics & Bandwidth Use
With Capsa's network traffic monitor feature, we can quickly identify network bottleneck and detect network abnormities.
-> How to monitor network traffic

Advanced Protocol Analysis
Being able to support more than 300 protocols in the latest version, Capsa make it easy to analyze protocols in network and understand what is happening.

In-depth Packet Decoding
As a packet sniffer, Capsa is able to capture all network packets transmitted on network and displays detailed packet decoding information in Hex, ASCII and EBCDIC.
-> How to packet sniffing & packet decoding

Monitor Multiple Network Behaviors
Colasoft Capsa can record global or scope-specific network events, containing four types of log primarily generated by the advanced analyzers: HTTP requests, email messages…
-> View Yahoo Sniffer,ICQ Sniffer, Email Sniffer, HTTP Sniffer

Automatic Expert Network Diagnosis
Capsa is able not only to automatically detect and clearly identify network events but also suggest corresponding solutions. You may also set your own thresholds according to your network's characteristic.
-> How to automatic and expert network diagnosis

Visualize all Connections in Matrix
"Matrix" is a view that visualizes all network connections and traffic details in one single graph. The nodes around an elongated ellipse display the hosts in your network….
-> How to view network connections
Next Steps
-> Download Free Trial
-> Purchase
-> Find a Partner
-> Downoad Technical Specification
-> Download Whitepaper